Mazda CX-9 Vs. Mazda CX-90 Comprehensive Review

Families searching for a spacious new midsize SUV with three rows of seats will want to consider the Mazda CX-90 vs. Mazda CX-9. These two Mazda SUVs offer similar characteristics and features, so deciding between the two could prove difficult for many. Still, our Mazda dealership is here to tell you more about the differences between the 2023 Mazda CX-9 and the all-new Mazda CX-90.
The 2023 Mazda CX-90 will replace the Mazda CX-9 in the Mazda lineup. Still, you may want to consider both models when shopping for a brand-new or pre-owned SUV. Both models are classified as midsize, feature standard three-row seating, and offer premium amenities.
See our Mazda CX-9 vs. Mazda CX-90 comparison to determine your preferred Mazda SUV.
2023 Mazda CX-9 Vs. Mazda CX-90: Engine
Every 2023 Mazda CX-9 comes powered by the same engine: a 2.5-liter Skyactiv®-G turbocharged engine. This turbocharged inline four-cylinder engine produces 250 horsepower on premium fuel1 and is paired with a smooth six-speed automatic transmission for excellent efficiency.
All-wheel drive (AWD) is standard on all 2023 Mazda CX-9 midsize crossover SUVs, as is the choice of running regular or premium unleaded fuel. Premium fuel boosts performance, with the engine developing more power and torque on the high-octane gas.
The first ever 2023 Mazda CX-90 has been announced, offering a choice of two engines. First is a new inline six-cylinder engine featuring a turbocharger generating 369 pound-feet of torque and 340 horsepower.2 Like the Mazda CX-9, the new Mazda CX-90's powertrain produces greater output with the recommended premium fuel. All-wheel drive is also found on the Mazda CX-90.
There will also be a new plug-in hybrid electric vehicle (PHEV) version of the 2023 Mazda CX-90, with more details and full specs available soon. As you can see, the new Mazda CX-90 offers greater power output than the Mazda CX-9 model. Still, both models provide impressive capability and are expected to offer efficient powertrains.
Mazda CX-90 Vs. Mazda CX-9: Dimensions
The 2023 Mazda CX-9 rides on a 115.3-inch wheelbase and is 199.4 inches long from front to rear bumper. It offers an impressive 8.8 inches of ground clearance, plenty to take on trails and rough terrain.
The automaker's new Mazda CX-90 model is anticipated to be longer and wider than the Mazda CX-9, but measurements have yet to be released. We'll soon find out how the Mazda CX-90 vs. Mazda CX-9 dimensions compare. Until then, consider a tour of the 2023 Mazda CX-9 model at your local Mazda dealer.
Mazda CX-9 Vs. Mazda CX-90: Interior
When you step inside a Mazda CX-9, you will find a spacious interior that can fit up to seven passengers. This roomy midsize SUV features three-row seating with split-folding second- and third-row seats for quick access to rows and the expandable cargo area.
Whether you want to maximize seating capacity or cargo space, the Mazda CX-9 makes it possible.
The new Mazda CX-90 model is replacing the Mazda CX-9 and is expected to offer even more space inside. This all-new SUV should provide even greater comfort and flexibility in its three rows and be backed by generous cargo volume.
Mazda CX-90 Vs. Mazda CX-9: Technology
Advanced technology is a part of every new Mazda automobile, and the Mazda CX-9 and new Mazda CX-90 are no different. Both of the latest models will include an array of high-tech features, including smartphone integration, large digital displays, and an intuitive Mazda infotainment system.
While you can expect the all-new Mazda CX-90 to offer some more advanced features than the Mazda CX-9, the latest iterations of these Mazda SUVs should feature:
Mazda Connect™ infotainment system
Android Auto™
Apple CarPlay®
Mazda Navigation System
360-degree monitor
Stay tuned to learn more about the next-generation technologies available on the 2023 Mazda CX-90, an all-new three-row SUV from Mazda. This roomy and refined SUV should provide several high-tech features not available on the Mazda CX-9 it replaces.
Mazda CX-9 Vs. Mazda CX-90: Safety
Safety is a staple of Mazda cars and SUVs; the same goes for the automaker's largest models. The latest Mazda CX-90 and Mazda CX-9 SUV models will come with a range of standard safety features that will bring peace of mind to your drive, including safety tech like automatic emergency braking and adaptive cruise control.
The new Mazda CX-9 offers an array of advanced i-Activsense® technologies to promote on-road safety, including the following features:
Advanced Smart City Brake Support
Blind Spot Monitoring
High Beam Control
Traffic Sign Recognition
Driver Attention Alert
Lane Departure Warning System
Lane-Keep Assist
Adaptive Front-Lighting System
Mazda Radar Cruise Control
Rear Cross Traffic Alert
You can expect the 2023 Mazda CX-90 to follow suit, providing the highly advanced safety systems and quality-built structures that have made Mazda a high-performing brand in safety tests.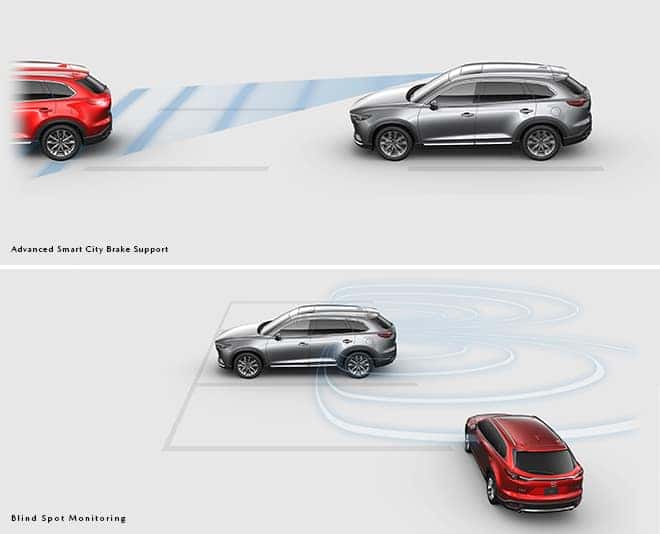 Contact Your Mazda Dealer for More Details
Are you ready to find your ideal new Mazda three-row SUV? Then see the new Mazda inventory at your Mazda dealer for access to the latest new Mazda SUVs for sale, including the 2023 Mazda CX-9.
If you're still waiting for the availability of the first-ever Mazda CX-90, then why not take a look at the Mazda CX-9 inventory? That way, you can get a feel for what this three-row crossover SUV offers and compare it to the all-new Mazda CX-90 model.
Our Mazda dealership team is standing by, ready to assist with your search and comparison of the Mazda CX-9 vs. Mazda CX-90. Contact us if you'd like help with your new SUV search.
---
1250 hp with 93 octane fuel. 227 hp with 87 octane fuel.
2340 hp and 369 lb-ft of torque when using the recommended premium octane fuel.